Movie Theater Advertising Promo Video :
Creating a stylish promo video for a product or a service is mainly to make Brand awareness and Promotion. This Animated Promotional Video has both live shoot and 3D Graphic design. Graphic and motion design for promotional video production represents the product Chondria which makes your Joints strengthen. Explore further about the range of services we offer.
Communication:  External Marketing Communication
Target Audience: Elderly people, Knee patients
Type of Animation: 3D Animated Promo Videos
Industry: Healthcare Industry
Medium of Distribution: Online Promotion (Email, Website and Social Chat)
Project duration: 45– 50 days
Source File Protection: Up to 5 Years from Order date your files are safe with us, you can access your video files any time for future update or Retrieve at any damage of video files.
1. Movie Theater Advertising Video Client Requirement:
Client is well aware of the industry and their target group, so they explained about the product through phone call and said they are manufactures of Chondria – Joints strengthener. Also shared competitor information along with product specific information's. Feel free to visit our partner site for additional resources and information.
2. Movie Theater Advertising Video Requirement
What is the video content (story/ concept/ idea/ reference videos)?
Ans: Client had requested us to make a concept and script
Who is the video audience (age, gender, location, language, designation, industry)?
Ans: Elderly people, Knee patients
Where is video is being played (Website, YouTube, Social Media, TV, Theatre)?
Ans: Digital Medium (Email, Website and Social Chat)
What is the result expected after watching the video (Sales/ buying, Marketing/ awareness, Branding or Reputation)?
Ans: Sales and Marketing
3. Pre-Production Stages – Movie Theater Advertising Animated Promo Video
a. Concept and Scripting
For arriving content, we first had an internal discussion and arrived a concept by performing brainstorming to satisfy all the 4P's needs. Concept was to show the specializations of the joints powder. In scripting we divide the entire video concept into two. One is the visual part and other is audio.
b. Environment and Elements
In this stage we will identify the environments and cast for shoot purpose and also plan to create the required 3D Elements as per the script. This stage also includes the detailed work process of the Script which classifies it as scenes and shots.
c. Storyboard of Movie Theater Advertising Video
After the approval of the script by client, we developed the rough version of the video known as storyboard as per the scenes. In this stage client can visualize the entire concept.
4. Production Stages [3D and Film Making]
a. Shooting with camera and lighting
The visual treat is all about well operating the cameras with knowledge of Lens, even the Light setup plays an important role. Shooting is an art of capturing the visuals as per video script. We plan in advance for the dates and properties used for video production. Video production depends on parameters like artist, locations, environment and shoot time.
b. 3D Animation Process
We developed 3D Models of 3D product Chondria bottle, required 3D Graphic design & other assets. As per the script the animation scenes are produced, Example: A rotational view of the bottle is shown.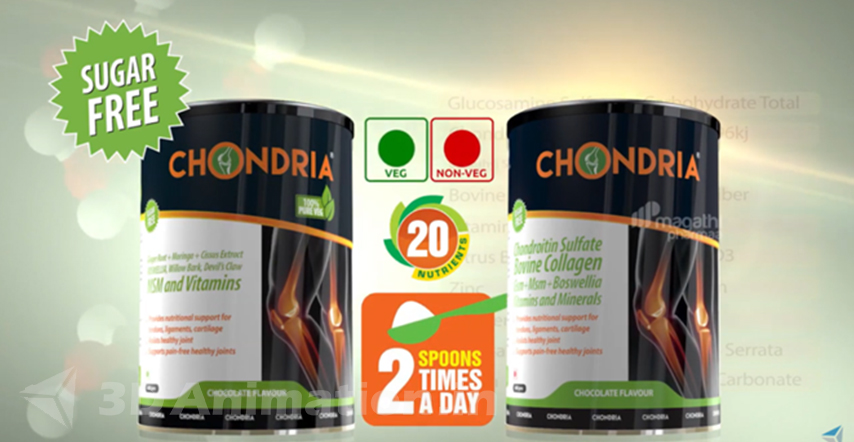 5. Post – Production Stages
a. Editing & Final HD
Editing is all about adding the visuals from the film making into video format and aligning as per video script. As per the editing script noted during shooting, a large number of scenes are received. We planned accordingly, the required shots for editing picked from various scenes and worked upon. Visual effect like computer graphics, text animation, video title, and subtitle is added for making the product highlight in this stage. Audio effects like voice over, back ground music and SFX detailing are also combined at this stage.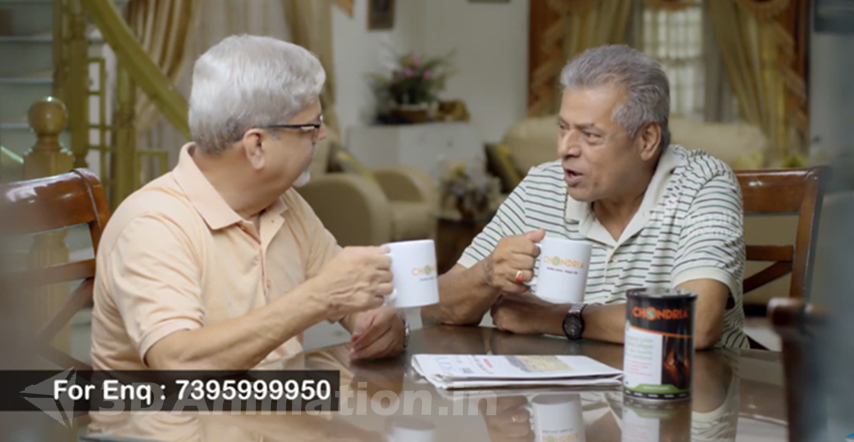 WATCH THE MOVIE ADVERTISEMENT ANIMATED PROMO VIDEO
Project name: Chondria Knee 3d Animated Promo Videos for Movie Theater Advertising
Project duration: 45– 50 days
Project cost: Get quote