Project Description
Development of technology has resulted in the production of Pier Animation Videos, making them much more compactable. Hence, the preview of elevations and constructions has become much easier to visualize through 3D Videos. The futuristic elevations can be easily represented through a 2-3 minutes video. At 3danimation.in, we strive our best and produce quality outcomes for our clients, offering simple yet cost-effective ways to showcase any projects, including 3D design services. All kinds of construction and elevations, including the construction of piers in the sea and landside tunnels, can be explained through architectural animation techniques.
Project Plan
Client shared with us documents containing the Site drawings and plans to produce a loadout jetty piling construction and offshore piling Architectural Animation video, leveraging our 3D design services. They also shared Site Details on the map. We then started our Pre-works for the project. The project was to be completed within 10 days, so it will be showcased in the Construction opening Ceremony of the Piers. With a piece of drawing, our Production team gets into the Production process, ensuring the highest quality through our 3D design services. The client visited our office, and we spent a couple of days planning and understanding the scope of work, which has helped us immensely in delivering the video on time.
Communication & Target
Communication:  External Marketing Communication
Target Audience: Indian Navy Higher Officials
Type of Animation: 3D Architectural Animation Video
Industry: Project Construction
Medium of Distribution: Online Promotion (YouTube, Email, Website and Social Chat)
Project duration: 10 days
Video Description
To engage our viewers, our team, with the help of our 3D design services, planned with multiple Walkthrough shots and executed well. Our visual making satisfied all the expectations from our client. The whole video was prepared within 10 working days, day and night. Video showcases the futuristic construction of Piers, which are set for Navy ships & Landside Tunnel for passage. The step-by-step construction of Piers and Tunnel are the highlights in this Video. This video also features the benefits to customers. You can find the making of our project below in our Production stages!
Production Stages for the 3D Architectural Animation
Concept and Scripting
Concept plays an important role in this! Eventually, a team of creative thinkers, along with the production team, plan for the visuals and shots of the video, which has to be showcased. In scripting, we divide the entire video concept into two. One is the visual part, which includes our 3D design services, and the other is audio.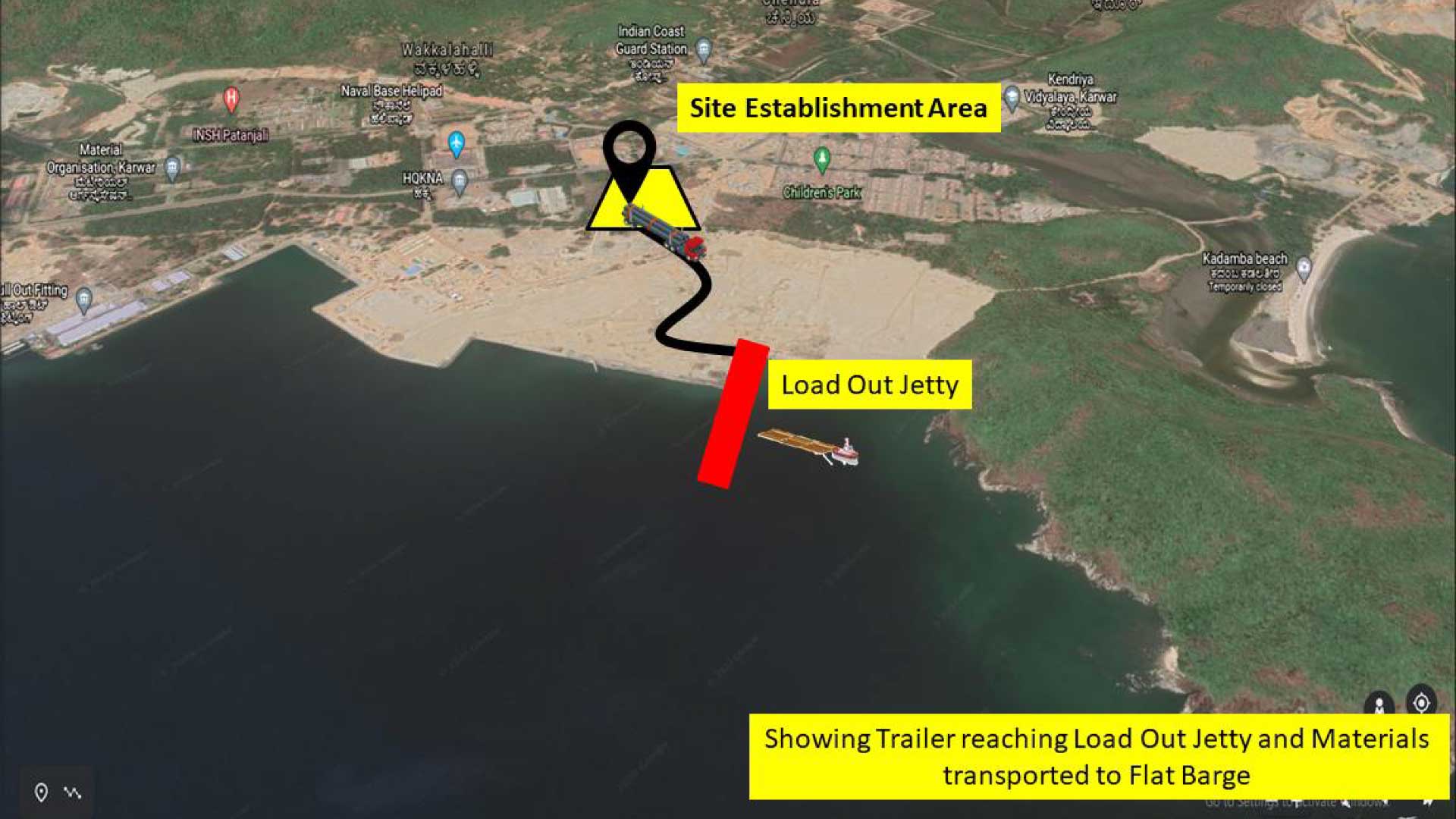 Modeling & Texture
As part of our 3D design services, we develop 3D Piers, Tunnels, Cranes, Lorries, Loadout jetties, Ships, buildings, pre-construction spaces, and provide all the necessary 3D construction materials. Texturing is the next stage of creating a realistic 3D model, involving the process of creating and applying suitable colors for the elements.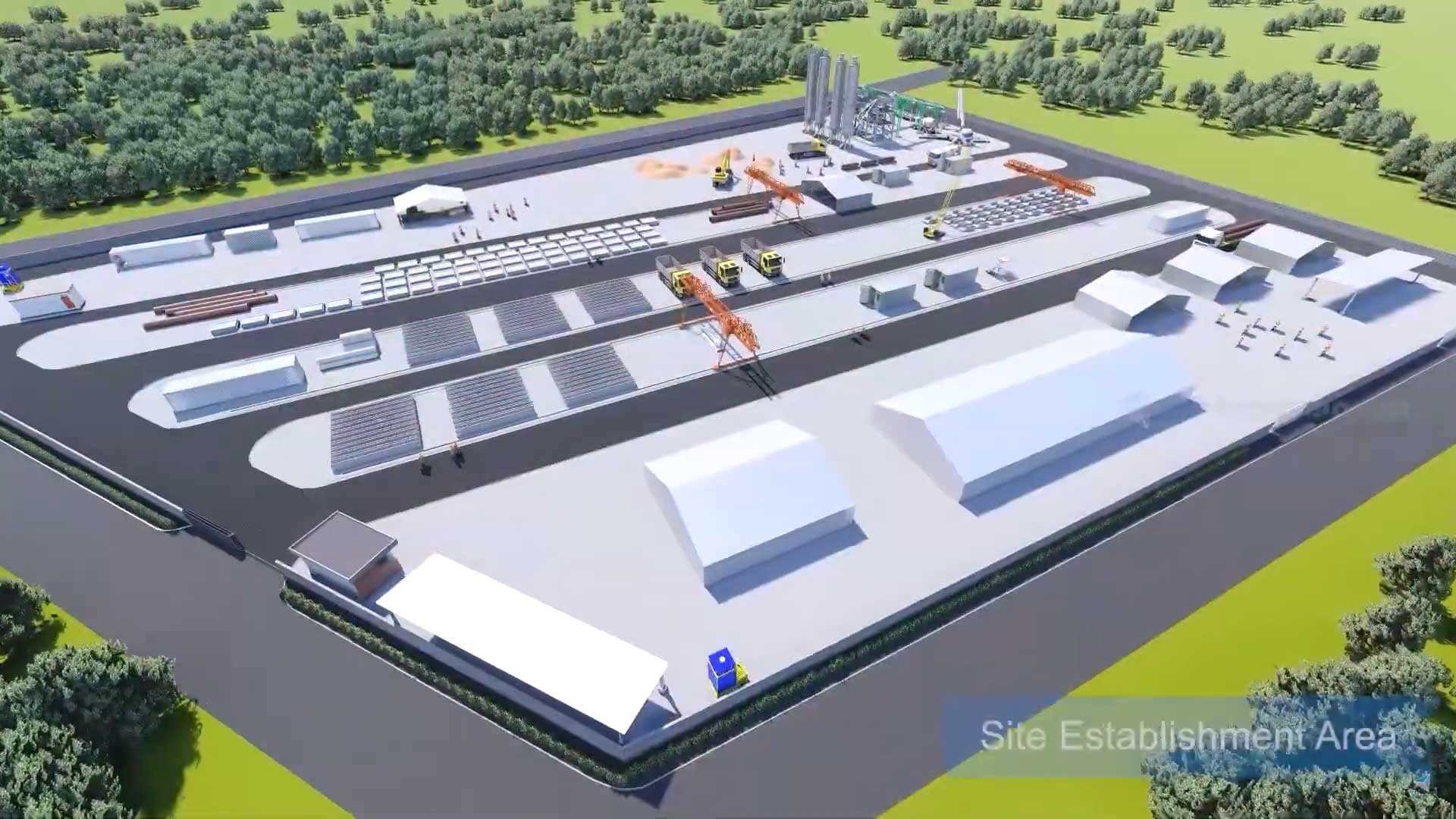 3D Animation
As per the script the 3D animation scenes are produced, Example: Showing the construction of Pier using Piling Gantry and how it is moved after constructing one Pillar to another. It also features how it is drilled and the Pillar is strongly inserted in the sea bed and then concrete is poured and finally Slab installation is done.
Lighting & composite
The visual reality is achieved in the animated video as similar to the live scenario, we match all the colors, add daylights, sea environment lights to enhance the visuals of the animation video. This helps photo- realism environment to your animated video. Compositing is aligning the video as per the video script.
Rendering
It's a machine process to get the creative output as .png or .jpg as a sequence of images at 24 to 36 fps. Rendering usually takes 4 hours to produce 10sec video output. If any correction, you have to wait until it is re-rendered. Also depends on the video assets and video quality output. If any corrections, you have to wait until it is re-rendered. To avoid such delays we pre-plan the production and do the iteration at every stage.
Editing & Final HD
Editing is all about adding the rendered images into video format and aligning as per video script. A visual effect like computer graphics, text animation, video title, and the subtitle is added at this stage. Audio effects like voice over, background music and SFX detailing are given at this stage.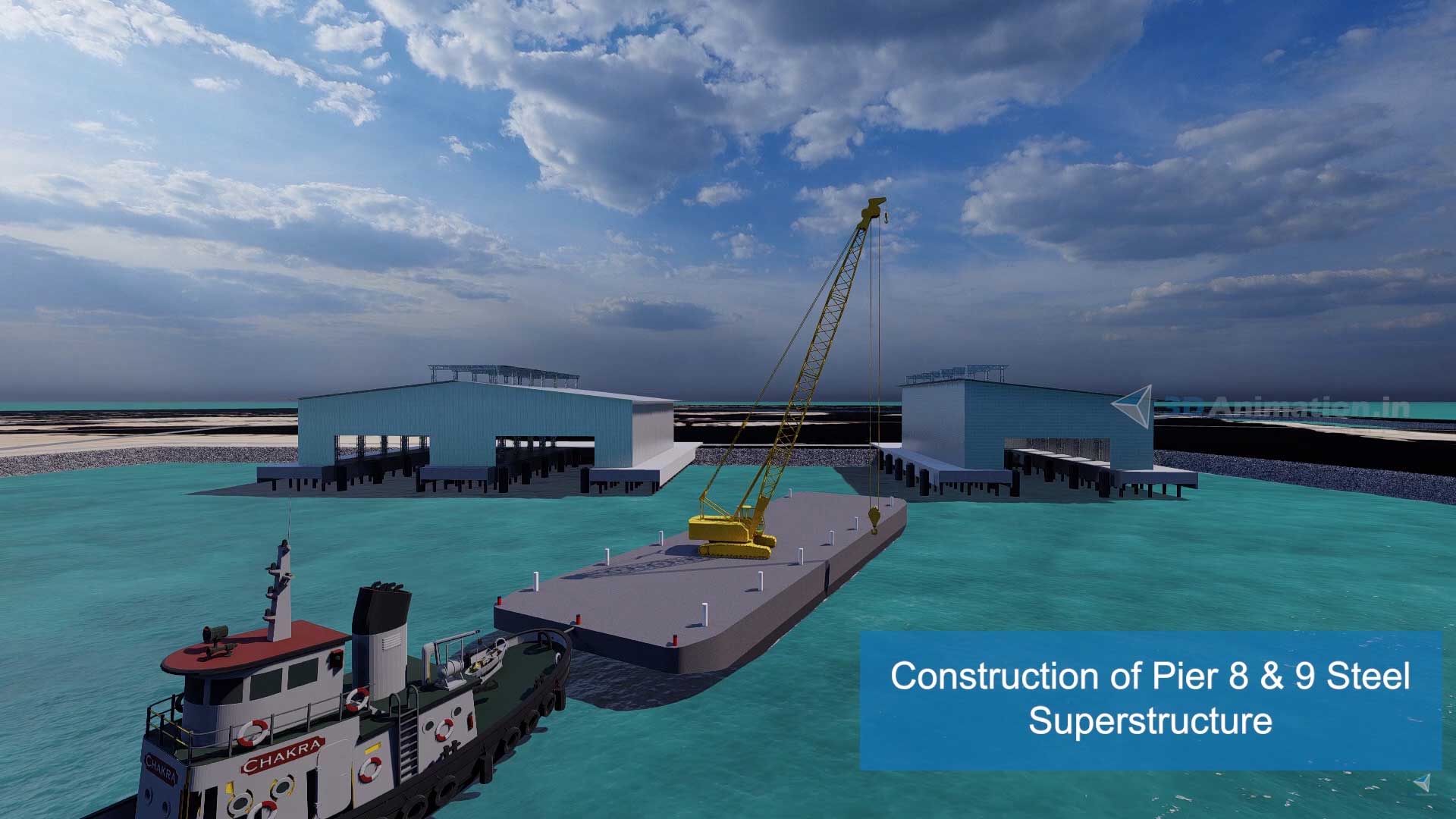 Measuring the Success
Success can be measured in various aspects, and with our 3D design services, we embrace the things that make us unique from others. It is not so easy to create a brand image and keep it special for a long period. We always give our clients winning results. The Project was completed within 10 days with good planning from our Creative Director and Team. We delivered the project in time and it got showcased in the Ceremony. Client was satisfied and appreciated our Internal Team involved in the Project. Our Post Production Team was so helpful in bringing out the Stunning Visuals.
Source File Protection: Up to 5 Years from Order date your files are safe with us, You can access your video files any time for a future update or Retrieve any damage of video files.
Watch the Loadout Jetty Piling Construction Animation video showcasing our 3D design services.
Project name: Loadout Jetty Piling Construction and Offshore Piling Architectural Animation Video
Project duration: 10 days
Project cost: Get quote